June 2021 Monthly E-Newsletter
In this Issue:
Parent Catalyst Leadership Group
"Let's Talk About Navigating Choices" registration link below.
Please contact Margaret, hcpclg@yahoo.com, with any questions or if you need the Zoom link for the July support group.
Journey Mapping Parent Experiences as they enter the Children's Mental Health System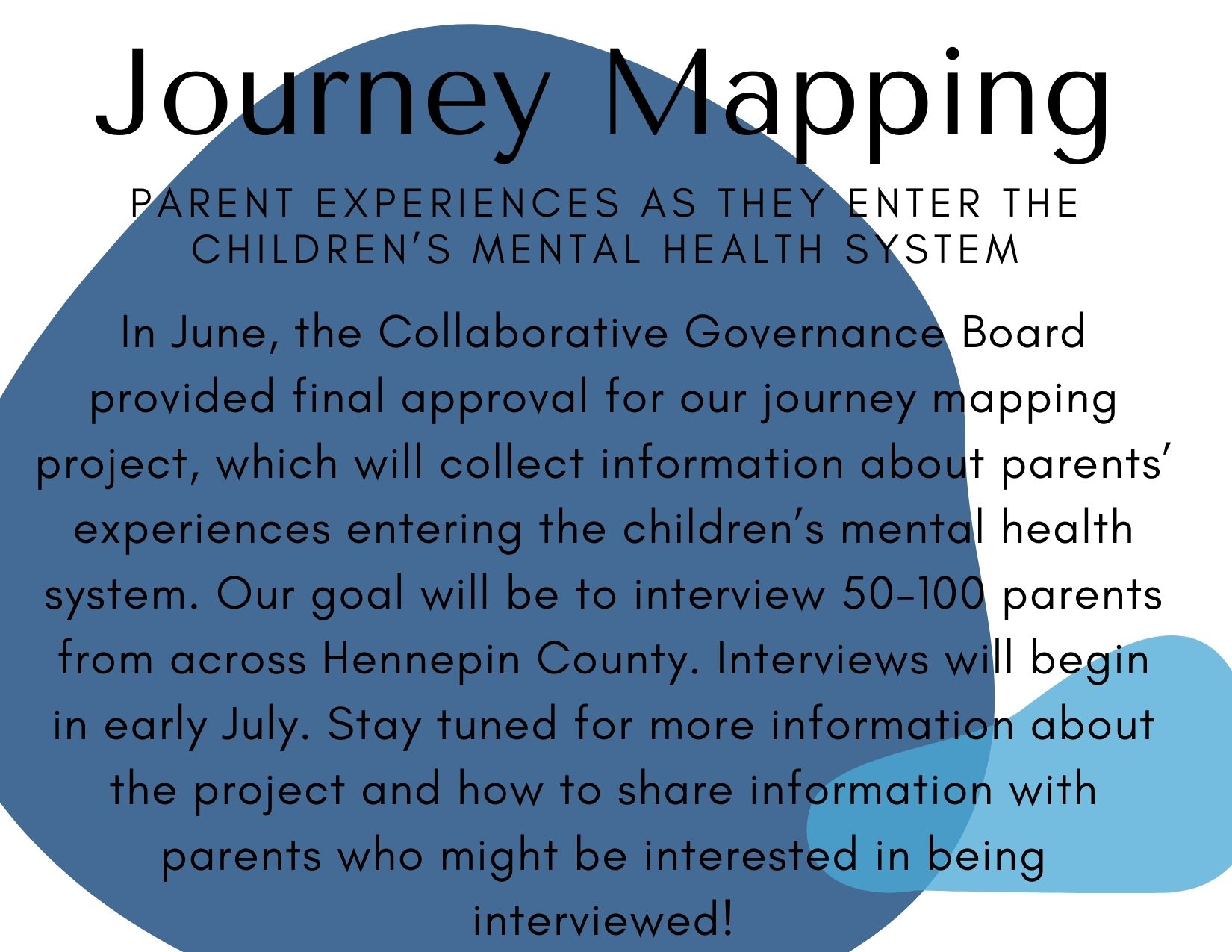 Children's Mental Health Legislative Updates

NAMI- MN provided the following updates on June 27, 2021 based on Legislative Agreements, which will become the state budget incorporating federal emergency funding.
BIPOC Mental Health Workforce: NAMI Minnesota's top priority for the 2021 legislative session was to pass a comprehensive workforce bill targeted at increasing the number of mental health professionals, and increasing diversity and becoming more culturally informed. While a few important items were not in the final compromise, there is an increase in funding for loan forgiveness programs and includes LADCs, requires cultural and regional diversity standards for licensing board membership, includes cultural competency in continuing education standards for mental health professionals, pays for BIPOC MH professionals to become supervisors, allows students doing their practicums to be MH practitioners, creates a Culturally Informed and Culturally Responsive Mental Health Task Force, and other items. This work was done in close partnership with the Wilder Foundation.
Telehealth: Major legislation on telehealth that will have a lasting impact on how Minnesotans access mental health services. Key changes include removing the weekly cap on telehealth visits under public health programs, allowing for people to access telehealth services through a telephone or other audio-only platforms through July 1, 2023, ensuring that telehealth services are reimbursed at the same-rate as in person treatment, and other changes. This will ensure that people have more options for accessing care.
Alternate Pathway to Children's Residential Treatment: Legislation from NAMI Minnesota and Aspire Minnesota that develops an alternative pathway for children voluntarily accessing residential mental health treatment without fully entering the child protection system – no relative searches.
Youth ACT: NAMI Legislation that expands the eligibility for Youth ACT services for children as young as eight and adults up to age 25. This will ensure that more children and youth can obtain the intensive mental health supports they need in the community and allows for transition services.
Special Education Recovery Services and Supports: Requires the Department of Education, local school districts, and charter schools to collaborate with the families of special education students to address the impact of distance learning due to the COVID-19 pandemic. IEP meetings will be held to assess the impact of COVID on the student and to determine if additional services and supports extended school are needed such as extended school year, additional IEP services, or compensatory.
Suicide Prevention: The Education budget includes NAMI legislation that funds an online, evidence-based suicide prevention training available to teachers and school staff.
School-Linked Mental Health: This is a very effective program where mental health professionals co-locate at a school and provide clinical mental health treatment to students. Funding for this program will increase by $2.5 million per year through 2025 using one-time federal dollars. Funding was also added to provide substance use disorder services.
Mobile Crisis: Appropriates over $16 million in one-time funding to expand access to mobile crisis services.
Suspensions: Grants are available to schools for training on non-exclusionary disciplinary practices that maintain the respect, trust, and attention of students and help keep students in classrooms.
LGBTQIA+ Youth Resources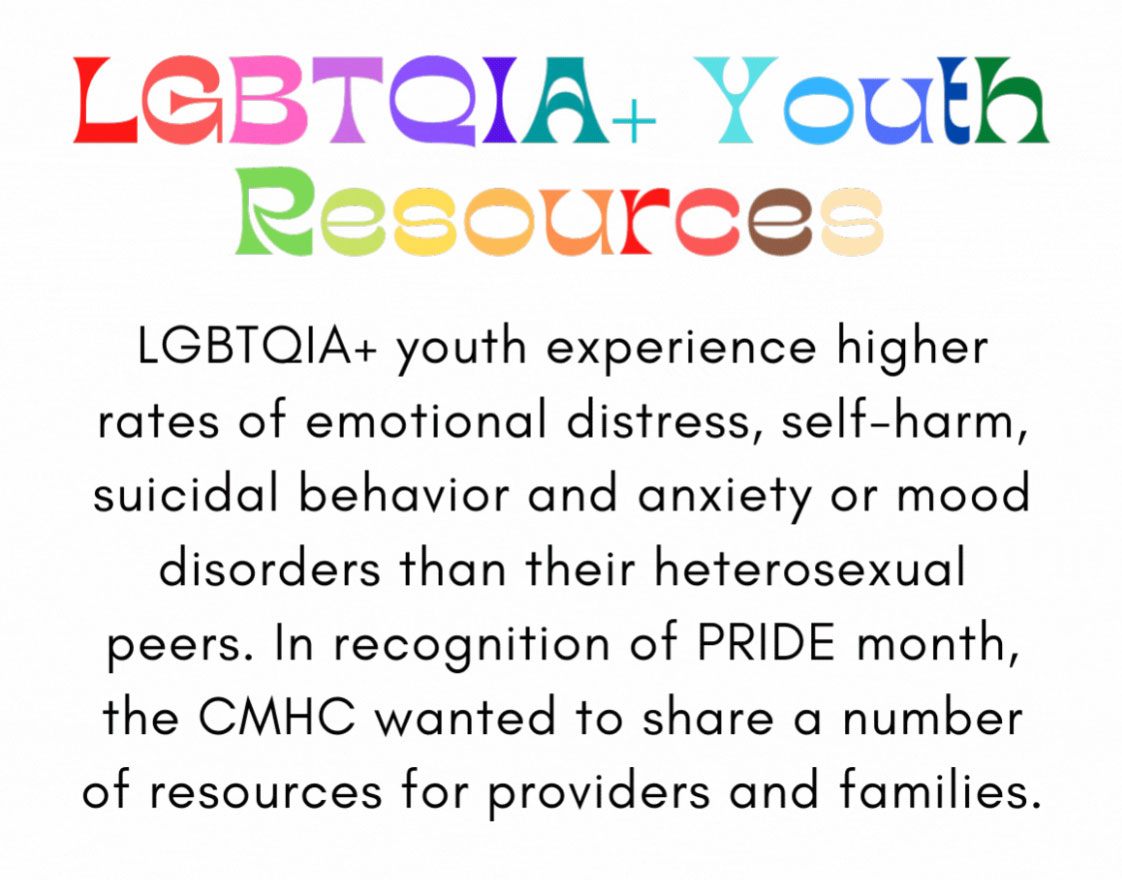 SAMHSA's guide, A Practitioner's Resource Guide: Helping Families to Support Their LGBT Children, offers resources to help practitioners in health and social service systems implement best practices to engage and help families support their LGBT children.
Advocates for Youth's Creating Safer Spaces highlights challenges LGBTQ youth face. The toolkit provides insight into what helps these young people thrive, while also informing healthcare staff, educators, and additional youth-serving professionals about the existing disparities in order to provide safer spaces.
The Family Acceptance Project® offers training and resources on an evidence-based family model of wellness, prevention, and care to strengthen families, while promoting positive development and healthy futures for LGBTQ children and youth.
A Guide for Understanding, Supporting, and Affirming LGBTQI2-S Children, Youth, and Families offers information for service providers, educators, allies, and community members who seek to support the health and wellbeing of lesbian, gay, bisexual, transgender, questioning, intersex, or two-spirit (LGBTQI2-S) children and youth—along with their families. This guide can help promote full and affirming inclusion of LGBTQI2-S youth and families in communities and provider settings (child welfare, juvenile justice, mental health, schools).
Source: Children and Family Futures
Child Tax Credit
The federal Child Tax Credit expansion included in the American Rescue Plan increases the Child Tax Credit and will mean monthly payments of up to $300 per child under age 6 and up to $250 per child ages 6-17 for nearly all American families. These credits are available to eligible families regardless if they earn enough to be required to file taxes. These changes begin July 2021. For more information and resources to get the word out about this credit, please visit ChildTaxCredit.gov.
For more information and resources to get the word out about this credits, please visit ChildTaxCredit.gov.
Better Together for Autism Assessments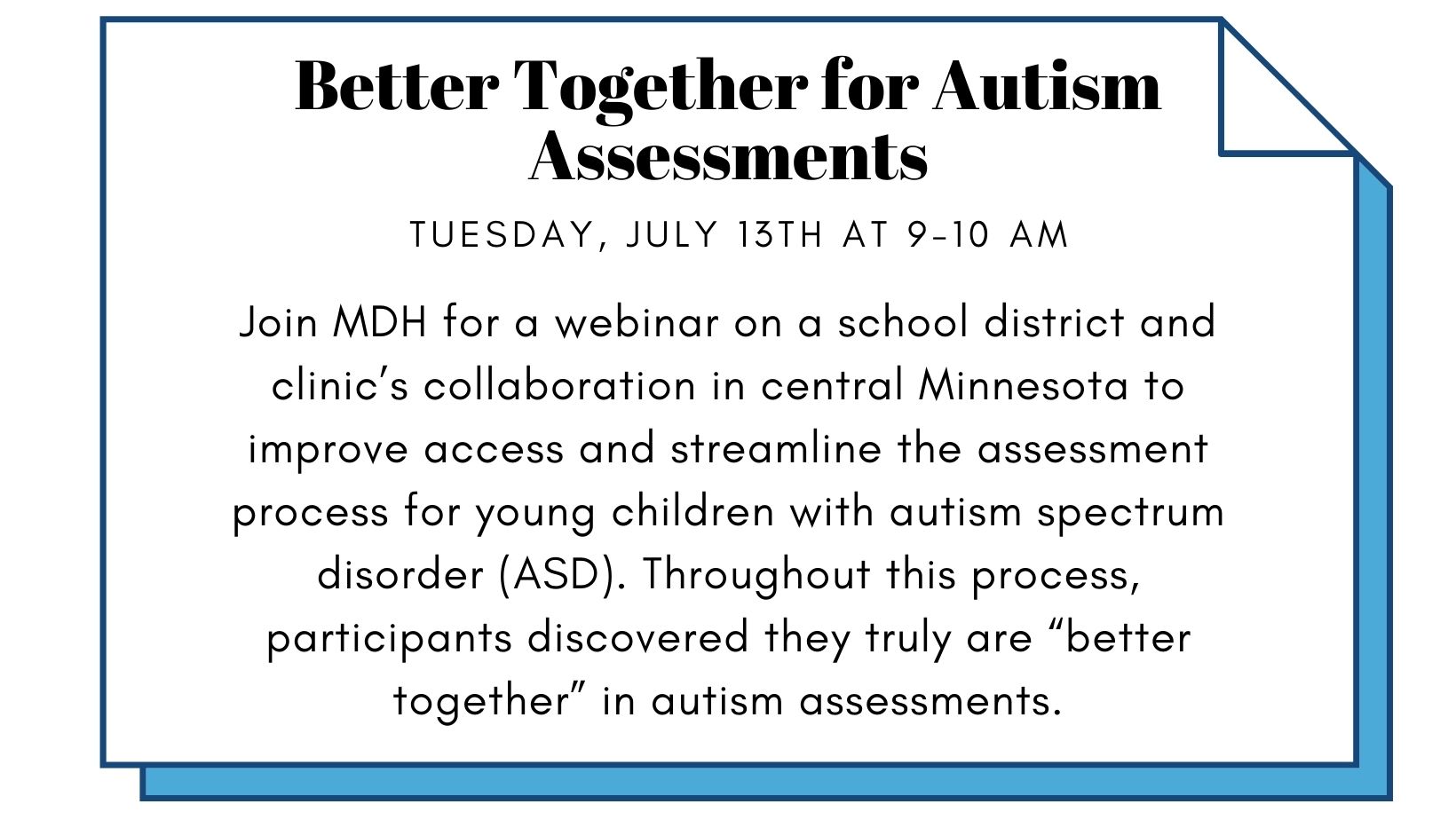 Registration is required, click the button below to register.
Kente Circle Training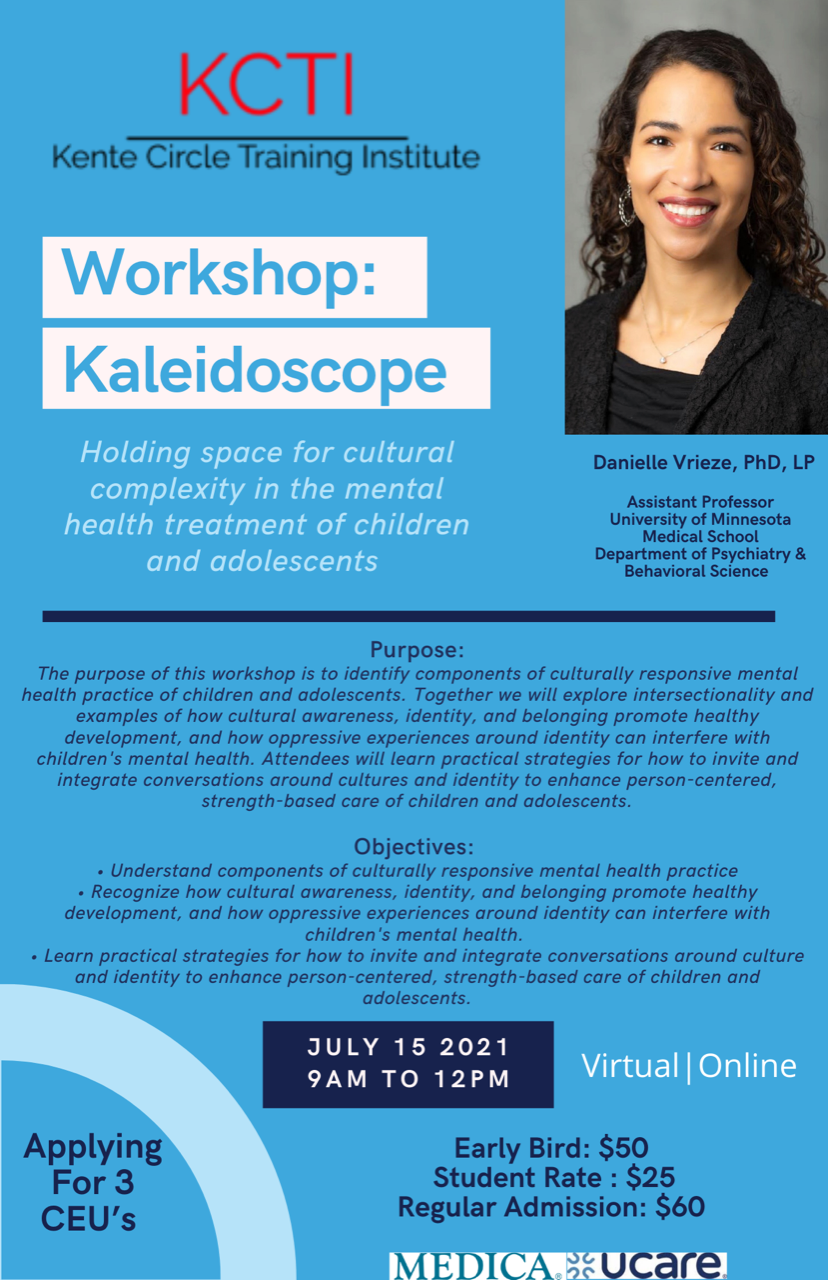 Save the Date! Saving our Communities: We All Have A Role In the Solution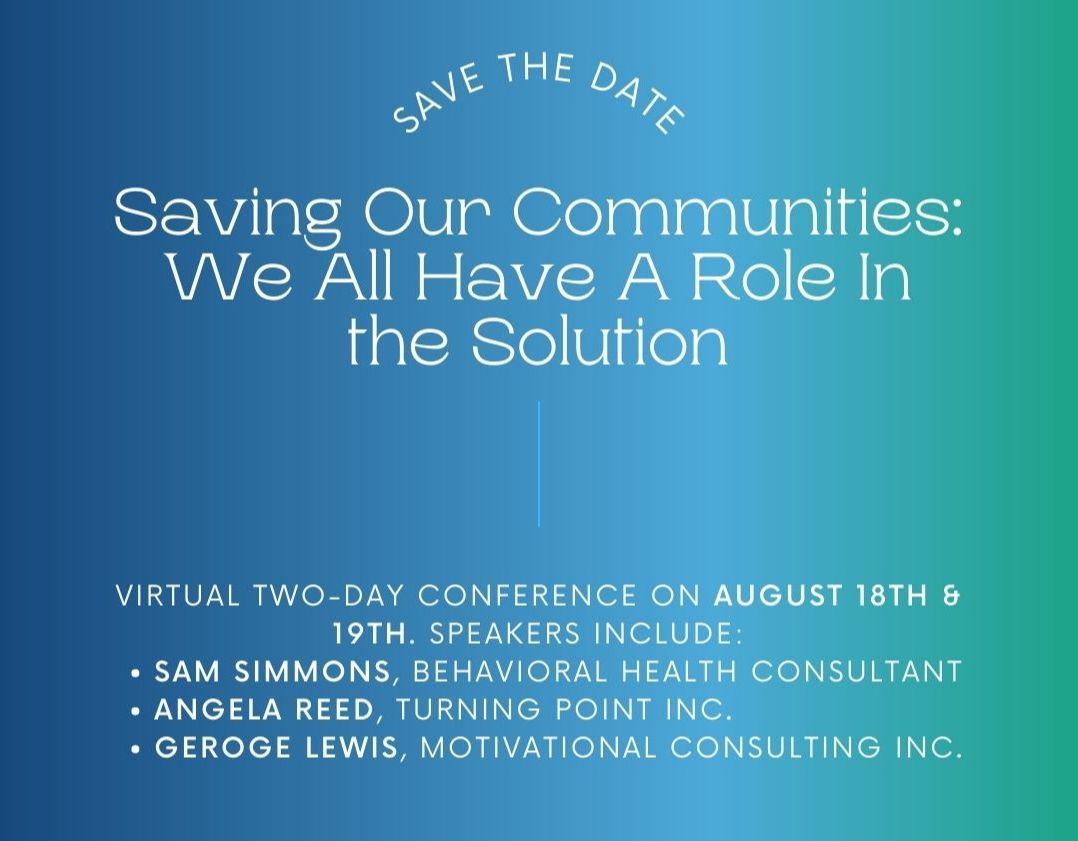 August 18th, will focus on "Racial Battle Fatigue" & its impact on Black providers & counselors.
August 19th, will address "Historical Trauma Within the Context of Substance Use" and focus on culturally responsive care and Interventions.
Stay tuned for more information
Changing the Narrative on Mental Health & Suicide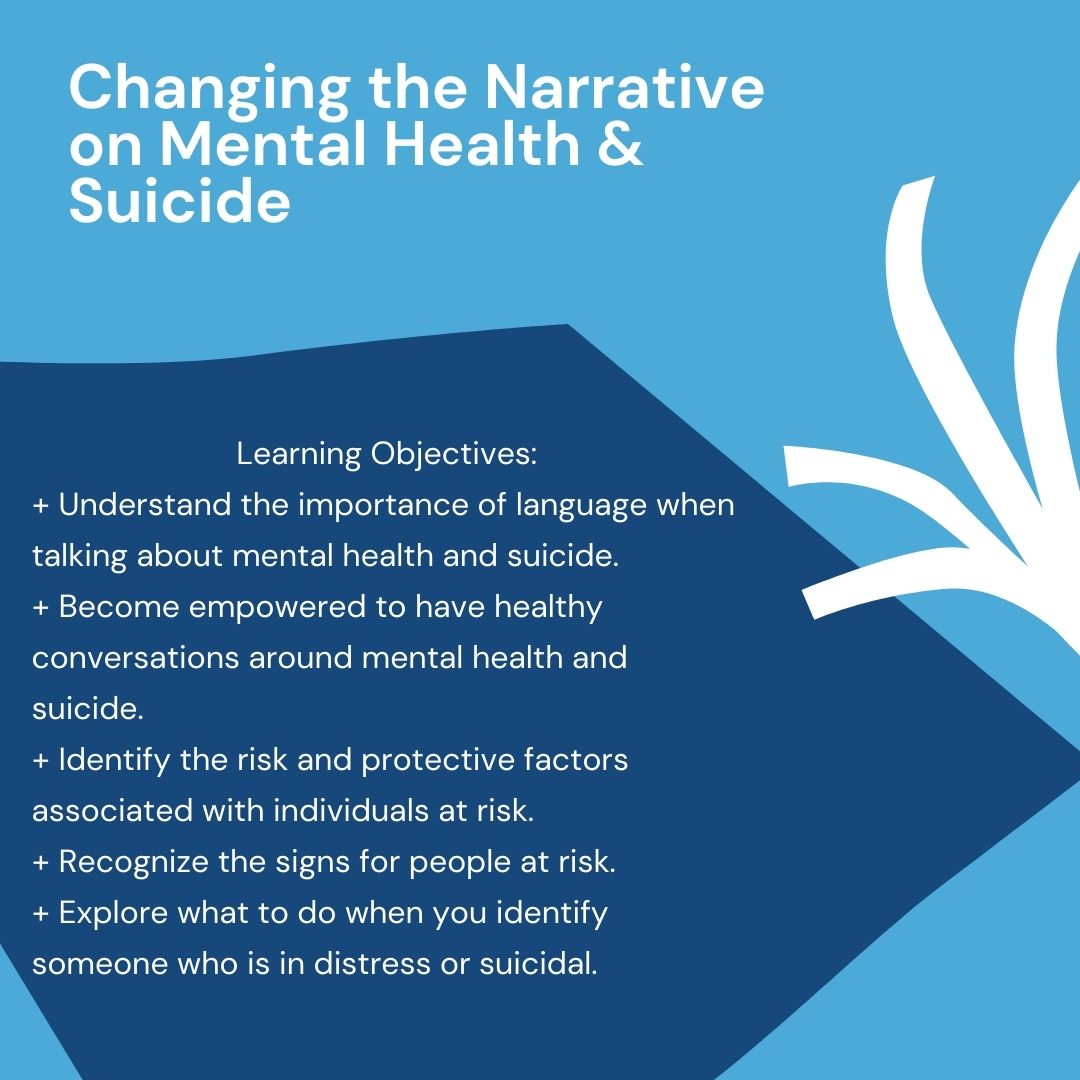 If you have any questions about the registration or payment process, please contact info@macmh.org or call 651-644-7333.