Recruiting Parents for Interviews – Help Requested!
Fliers and Q+A Available now in English, Somali, Spanish, & Karen
The HCCMHC is recruiting parents and caregivers who have children receiving mental health services to participate in Parent Interviews. We are seeking feedback from families to help us improve the children's mental health systems. The interviews will focus on the families experience as they sought children's mental health services. Recruitment fliers and FAQs are available in English, Spanish, Somali and Karen on the CMHC's website; https://hccmhc.com/system-of-care/parent-interviews/.
Please help recruit a diverse group of families across the county! Registration for interviews can be found here.
Order of Fliers: (Please click on Flyer to Download)
First Row: English, Somali
Second Row: Spanish, Karen
Parent Support & Opportunities
Parent Catalyst Leadership Group (PCLG)
PGLG is Hosting a Parent Support Group
The PCLG will host a Parent Support Group on Thursday, Sept 9th at 7pm. Zoom link can be requested from Margaret Sullivan at hcpclg@yahoo.com. All parents and caregivers of children with mental health challenges are welcome!
PCLG is seeking new members!
The Parent Catalyst Leadership Group's (PCLG)
is currently seeking parents and caregivers of children with mental health challenges to be leaders in improving services and supports for other Hennepin County families. For more information: contact Margaret Sullivan at hcpclg@yahoo.com.
---
Help Me Connect MN – NEW Parent Resource
Pregnant and parenting families with children birth to 8 years old now have a new tool to connect to services in their local communities that support healthy child development and family well-being.
Families and providers can access Help Me Connect by visiting HelpMeConnectMN.org.
Help Me Connect is a website designed to help Minnesota's families navigate local community, county and state resources. Families and those who support families, such as preschool teachers, child care providers and pediatricians, can use Help Me Connect to find services such as:
Healthy development and screening
Developmental and behavior concerns, including infant & Early Childhood Mental Health Services
Disability services ans resources
Early learning and childcare
Family well-being
Tribal and American Indian resources
Dental care
Basic needs
Legal services
Peacetime emergency resources.
"We all know that families look for resources in lots of places; Help Me Connect fills a gap by putting resources in a central location and removing some of that burden off of the family." said Erin Bailey, Assistant Commissioner of the Governor's Children's Cabinet. "Whether a family is with a doctor for a check-up or meeting with a head Start teacher, there is a tool to identify services in the community."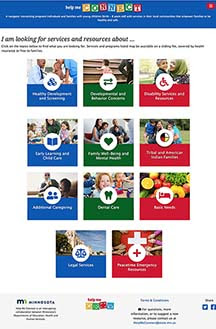 New HCCMHC Governance Committee Meeting Date!
September 22, 2021
from 3:30 – 5:00 PM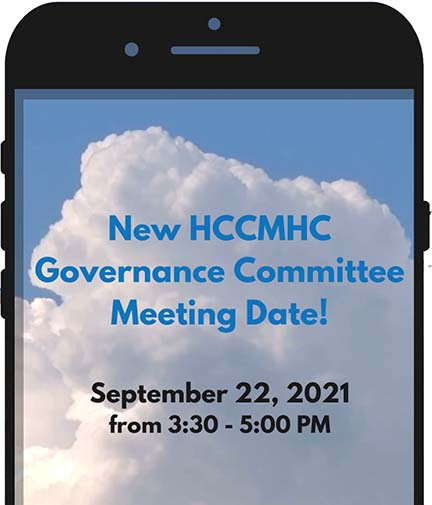 Hennepin County dedicates $20 million to increase equity and access to mental health supports
Hennepin County announced it will dedicate $20 million in federal American Rescue Plan resources to increase equity and access to mental health supports. The county seeks to combat the effects of COVID-19 on mental and chemical health. Investments in children's mental health under the following categories
Expand School Based Mental Health to improve access to evidenced based mental health services for youth. These services increase access to mental health supports from 13% to 85% for all youth. Data shows BIPOC youth are 2.7x more likely to access school based mental health than their white counterparts.
Expand Family Response and Stabilization Services to reduce the need for out of home placement of children by supporting the entire family when a youth is experiencing behavioral or mental health issues. The intervention provides immediate support at the time of the crisis and stabilization services following the initial contact.
Launch a Juvenile Behavioral Health Initiative to create a county-wide strategy to improve the quality of life and outcomes for families and youth via connection to appropriate resources and decreased involvement with the justice system.
Expand Family Home Visiting for outreach and services of universal short term evidence-based family home visiting to Hennepin County families. Through these services, home visitors support families in promoting healthy child development, increasing their connections to community resources, and support caregiver mental health (reduction in postpartum depression or anxiety).
Develop and expand network culturally specific mental health services in alignment with enterprise-wide priorities for ARP funding and disparity reduction goals.
Preliminary details of their plan is available here.
Legislative & Waiver Changes Impacting Behavioral Health Programs
The Minnesota Department of Human Services (DHS) provides important memos and bulletins on changes impacting behavioral health. You can track many of these changes through the Minnesota Department of Human Services here.
DHS Highlights Legislative changes impacting Behavioral Health; https://content.govdelivery.com/accounts/MNDHS/bulletins/2edb00f.
Verbal Consent of Individual Treatment Plans through Telehealth updates; https://content.govdelivery.com/accounts/MNDHS/bulletins/2ee80d4. You may document the recipient's verbal approval or electronic written approval of the treatment plan or change in the treatment plan instead of obtaining the recipient's signature if you provide Intensive Rehabilitative Mental Health Services, Children's Therapeutic Support Services, Intensive Treatment Foster Care, Children's Mental Health Mobile Crisis Services, or Outpatient Mental Health
Behavioral health provider recertification waiver updates; https://content.govdelivery.com/accounts/MNDHS/bulletins/2ed5689. The authority to waive recertification for the following service providers will end on Aug. 30, 2021. ACT, ARMHS, ITFC and DBT providers, you have until Aug. 30, 2021, to recertify if your certification expired on or after Mar. 20, 2020